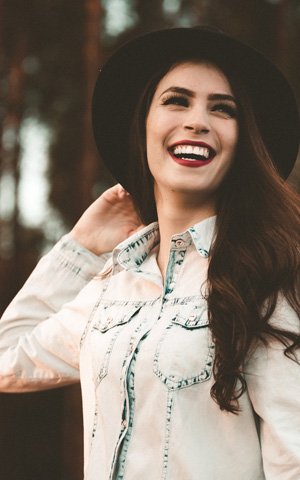 Myth: dazzling smiles and perfect teeth are just lies told by the movie industry. 
Truth: there are several convenient treatments available to the rest of us non-movie-stars. One of those is the application of dental veneers.
What Is a Veneer?
A porcelain veneer is a thin shell of porcelain which we professionally bond to the surface of a tooth. They closely resemble natural tooth enamel and allow for a number of stunning results.
Firstly, veneers can correct minor tooth asymmetries. With professional design and application, they can camouflage crowding, gaps between teeth, dullness, staining, yellowing, and much more!
Secondly, veneers protect your teeth. Enamel is vital to the health of your mouth. It is the strongest material that the human body can produce, but even it can get chipped, broken, or worn out. Veneers provide a second level of protection between the outside world and the sensitive interior of your teeth.
Thirdly, veneers are durable. They are easy to maintain and can last for years, allowing you to worry less about your teeth and more about living your best life.
A Work of Art
The professionals at Southill Dental will turn your smile into a masterpiece.They take into account every nuance of your face, from your cheek contours to your natural tooth shape. We leave nothing to chance as we create veneers that are perfect for you.
The process is easy and completely transparent. Only five simple steps stand between you and the Hollywood smile you've always wanted. 
Come in for a consultation.
Have your teeth prepared for dental veneers.
Collaborate with your dentist to design the ideal smile.
Wear temporary veneers while we build your permanent product.
Return to the office for permanent veneer placement.
It's just that easy. Schedule an appointment today for your consultation with Southill Dental Group.